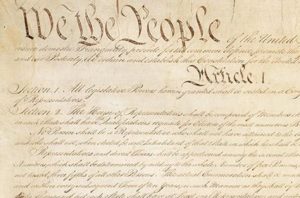 I will be moderating a conversation at the National Archives on "Game Design and the Constitution" this Thursday, September 6th, at 7pm.
The event will feature game designer Luke Peterschmidt and historian Denver Brunsman, as we explore how the science of game design might be applied to analyze the Constitution and our political system. Welcoming remarks will come from The Honorable David S. Ferriero, Archivist of the United States.
A live stream is available for those beyond DC.
Bios on our featured guests:
Denver Brunsman is Associate Professor in the History Department at George Washington University, where his courses include "George Washington and His World," taught annually at Mount Vernon. He completed his MA and Ph.D. degrees at Princeton University and his BA at St. Olaf College. His book, The Evil Necessity: British Naval Impressment in the Eighteenth-Century Atlantic World (2013), received the Walker Cowen Memorial Prize for an outstanding work in eighteenth-century studies in the Americas and Atlantic world. He is also a coauthor of a leading college and AP U.S. History textbook, Liberty, Equality, Power: A History of the American People (7th edn., 2016) as well as the e-book, Leading Change: George Washington and Establishing the Presidency (2017), among other works. The recipient of numerous teaching honors, he was inducted into the George Washington University Academy of Distinguished Teachers in 2016.
Luke Peterschmidt is an award-winning game designer, Brand Manager for Hasbro, and successful entrepreneur. He is best known as the designer of the hit game Bakugan, which won Toy of the Year, Boy Toy of the Year, and Property of the Year at the 2009 TOY Awards. Luke also designed the best-selling deck building game Miskatonic School for Girls. He is currently a partner at Fun to 11 and works out of the Geek Dynasty offices in Pennsylvania.